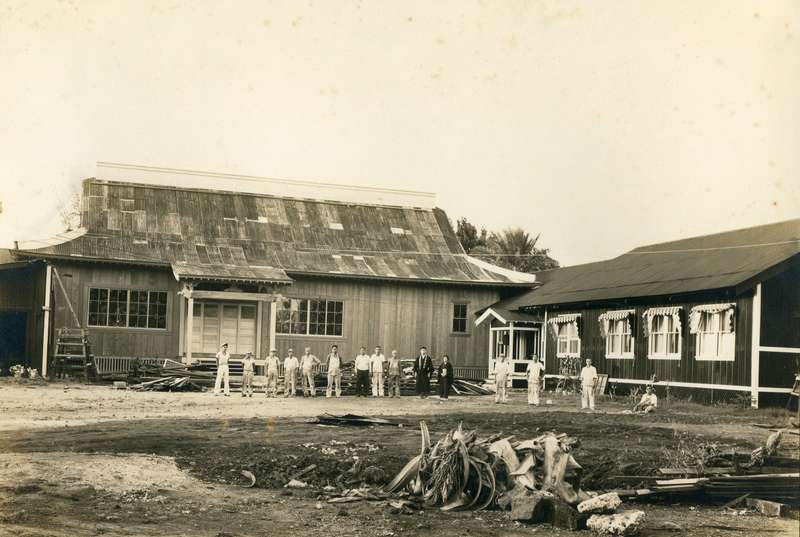 It was in 1885 when the first government contract Japanese immigrants were transported to Hawaii. By 1908 approximately 68,000 immigrants had come to live in Hawaii. The facts about the labor contract and living conditions in Hawaii were little known to the people in Japan who were planning to come abroad. Many adverse conditions were in line for these immigrants as they settled in Hawaii:
Hawaii, Hawaii was our dream
Only to find it was a Hell
Boss was a King of Hell
And luna (foreman) was a Devil
This folk song called "HOLE HOLE BUSHI" is one which was sung among the contract laborers while working in the sugar cane fields. The lyrics graphically portray the cruel and harash treatment they received.
The Higashi Hongwanji took its first step into such a community and lit the flame of Nembutsu in the hearts of immigrants sharing their tormented lives. It was in those days that more than a thousand members gathered at the Waimea Higashi Hongwanji on Kauai seeking salvation from the suffering of their daily lives through the Nembutsu teachings. This is how the Hawaii Hogashi Hongwanji temples grew together with the community.
Years later, with the outbreak of World War II, Americans of Japanese ancestry had to fight against their mother countery. This unfortunate situation sparked racial discrimination against the Japanese Americans, which proved to be the second hardship they encountered. Under such difficult conditions, the Higashi Hongwanji temples worked to serve the spiritual needs of its members and community friends.